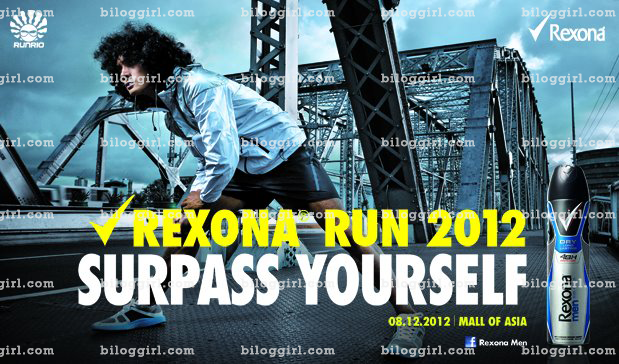 Rexona Run 2012: Outrun Youself
August 12, 2012
SM Mall of Asia
Category: 5k/21k/21k Relay
What was your personal best on the above distance? This year, Rexona Run wants to challenge and push us to the limits as they launched the 5k, 21k Solo and 21k Relay categories. For those who want to be a volunteer pacer, please refer to Runrio website or Kulit Runner's blog for complete details.
****
Prepare to push yourself to the limits when Rexona Run 2012 unfolds on August 12 at the SM Mall of Asia grounds. Presented by Rexona Men, the much-anticipated event promises to raise the bar even higher. With a new category, more prizes and exciting features that will surely test the mettle of even the most seasoned runners.
Participants can choose from among three race categories: 5K, 21K Solo and for the first time ever, the 21K Relay. The new category is designed to inspire 5K and 10K runners to raise their level by taking part in the more challenging 21K race, where a team of 2 runners will run a relay for them to finish the 21K distance.
Apart from cash prizes and medals for the top finishers, commemorative key chains will also be awarded to finishers who manage to beat the recommended finishing time for a challenge. To qualify, 5K runners must cross the finish line 30 minutes after gun start at 6:20am, and all 21K participants need to finish within 2 hours at 7:00am.
To ensure that each participant keeps within their target finishing time, pacers shall be deployed for each race category.
Helping runners train and commit to a faster finishing time, Rexona Run 2012 has created the Rexona Run Outrun Yourself App, which can be downloaded for free via the Rexona Men Facebook page. The app will help runners set a target time for the category to be run courtesy of a running playlist and occasional voice over as their time check, which they can listen to while training. During the actual run, the app can also be used to help runners set their pace.
More than just promoting wellness through running, Rexona also strongly espouses the responsible running. For Rexona Run 2012, trash bins will be placed in strategic locations so runners can properly discard used water bottles, sponges and other trash. This gives runners a cleaner and more pleasant race route, now and in succeeding editions of Rexona Run.
"Each year, Rexona manages to raise the bar and this year will be no different. We not only made this year's race fun, exciting and safe, but we're also introducing new developments that will surely inspire running enthusiasts, both professional and recreational types, to strive to outrun themselves," says Rexona brand manager Anne Remulla.
Prizes for the top three finishers in the 21K Solo include Php 7,000 for first, 5,500 second and 4,000 for third, while the podium finishers in the 21K Relay take home Php 5,000 for first, 4,000 for second and 3,000 for third for each member of the team. Top three finishers in the 5K category go home with Php 4,000, 3,000 and 2,000 for first, second and third placers, respectively
Registration is ongoing until July 29 at Riovana stores in Bonifacio Global City and Katipunan and Toby's branches in Trinoma and SM Mall of Asia. Online registrations are also accepted at www.runrio.com from now until 12 midnight of July 22.
So this August, get ready to challenge and outrun yourself only at the Rexona Run 2012.
For more details, check out the Rexona Men Facebook page, visit www.runrio.com or call/text the race hotline at +63927-347-7700 (Globe), +63929-717-8164 (Smart) or +632-887-6194.