I was relieved when my son, Luke, had finally conquered his Infantile Hemangioma.  It was finally over.  The medication took more than a year as Hemangioma shrunk slowly and only left an excess skin on him.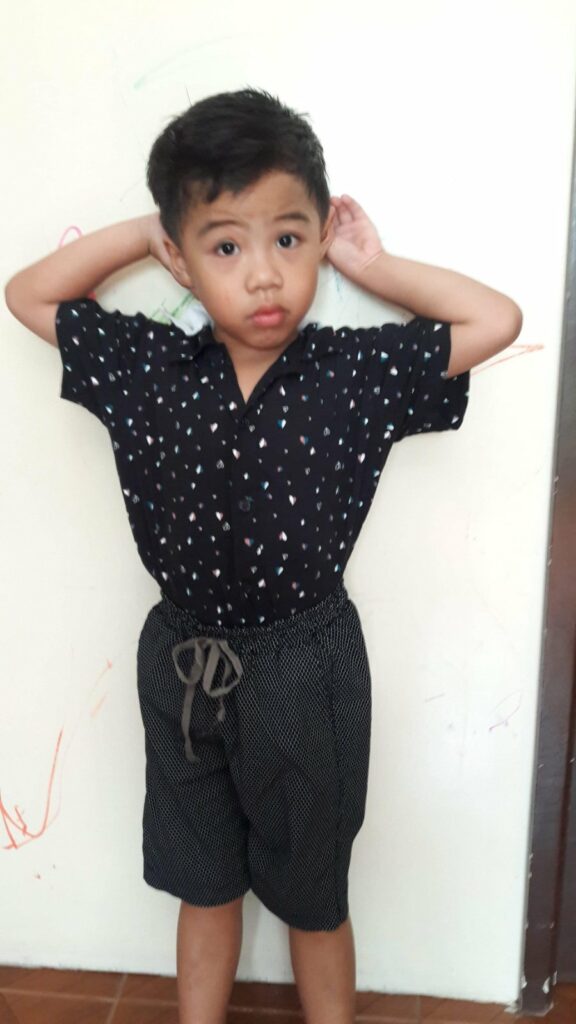 The result of the medication was remarkable as I finally saw a clean face of him.  He's such a handsome big boy.  I was so relieved.
Few months before his 2nd birthday, I noticed that his development in speech is a bit slower compared to a toddler of the same age.  A few elders told me every child has its own pace of development.  Some developed fast, kids are not the same.
He cried when he heard loud music.  I knew that there was a delay but it was not a problem for me.  He walked late.  As far as I remember, he was already 16 months old when he learned to walk.  He's playful and likes toys and one of his favorites was building blocks.  I remembered when he built the block as high as himself, he was very happy and in a few seconds, he started to flap his hands.  He does that when he's very happy.  
He likes fidgeting.  He moves back and forth but I can never hear a noise.  I can only hear his voice when he cries.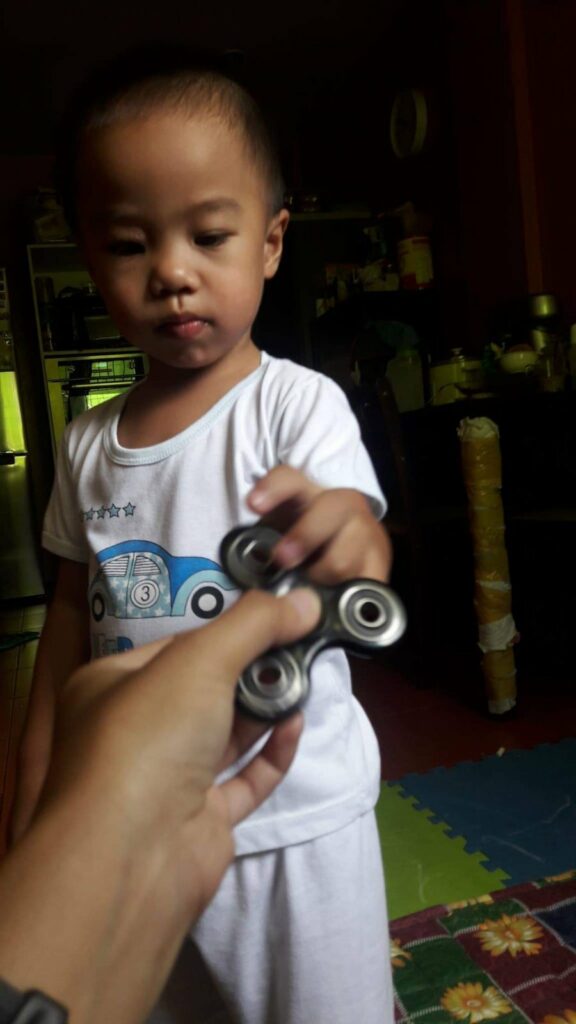 I didn't know it was all red signs of developmental delay. Sometimes in February 2017, a month after his 2nd birthday, my son suffered from congested nose. His caregiver told me that my son was very irritated and crying the whole day. The way it was described to me, he was uneasy. The caregiver told me to take him to the nearest pediatrician.
It was already late afternoon, so my son was brought to a different pediatrician because our regular pediatrician was scheduled in the morning clinic. He and my caregiver went to Dr. Niel Chan, pediatrician of Las Pinas Doctors to check up his congested nose.
At the clinic, my caregiver called to update me that they are on their way home and urged me to rush up home because the doctor wrote something at the back of the prescription. When I asked her about what was written on the paper, she told me, just be home early.
I called my superior to request for an early out due to an emergency notice at home. I left the office and went home. The prescription was handed to me, I read quietly and while reading it repetitively my tears started to fall. The doctor's note was kept short, it was written in verbatim: "suspected mild autism, please see me".
I went to my son, reached him and hugged him. I told him; I will forever love you until my last breath. He looked at me like he didn't understand what I was saying.
I could describe that moment, it was the longest night of my life. I went to our room and cry. I started to ask questions and the first question that popped into my mind was, what did I do? I started recalling things I did during pregnancy. Questions were becoming more and more.
It was past midnight but my tears won't stop. My husband held my hand and told me to stop blaming because no one's at fault. He added that autism can be corrected through intervention and therapy. He said that he has a hunch that my son has a condition but he was not sure of it. He didn't tell me because I might break down. He hugged me then I fell asleep.
Next day, me and my husband went to Dr. Chan and he explained how he knew that he was suspected of having mild autism. He was explaining carefully. I was looking at him but honestly, I was not paying attention. I felt that information is not absorbing my brain. What I understood at that time was to see a Neuro-pediatrician to assess my son.
I talked to a good friend of mine, Tina Soliman-Zamora, a SPED teacher and Child Development Specialist about the initial diagnosis of Luke. She said, "Hey Jen cheer up, it's not the end of the world no, ano ba?" She told me to observe and try to engage with him. She taught me a few exercises to check his hearing and do exercises on eye-contact.
After I had talked to Teacher Tina and a few parents of special children I stopped crying. I knew that I should stop sulking in the corner. I must do something. I went to the mirror, I told myself that I already cried and I think I had cried enough. That moment, I should do something to help my son. I searched for a Neuro-Pediatrician and therapy center for autism, and that day, I found them.
God chose me to be the mother of a special child because He knew I could handle this gift to me.  With this, I will never fail Him.  I am thankful to our families for their unconditional love for us and understanding.  We know it is struggling and challenging but still, I want to thank them because they reciprocated it with nothing but LOVE.
Now, Luke is 5 years old.  The silence at home has finally broken because he could say a lot of things but times, there are words that need to be deciphered.    He could finally say what he wants but not conversational yet.  We are getting there and with God's help, we will get there.