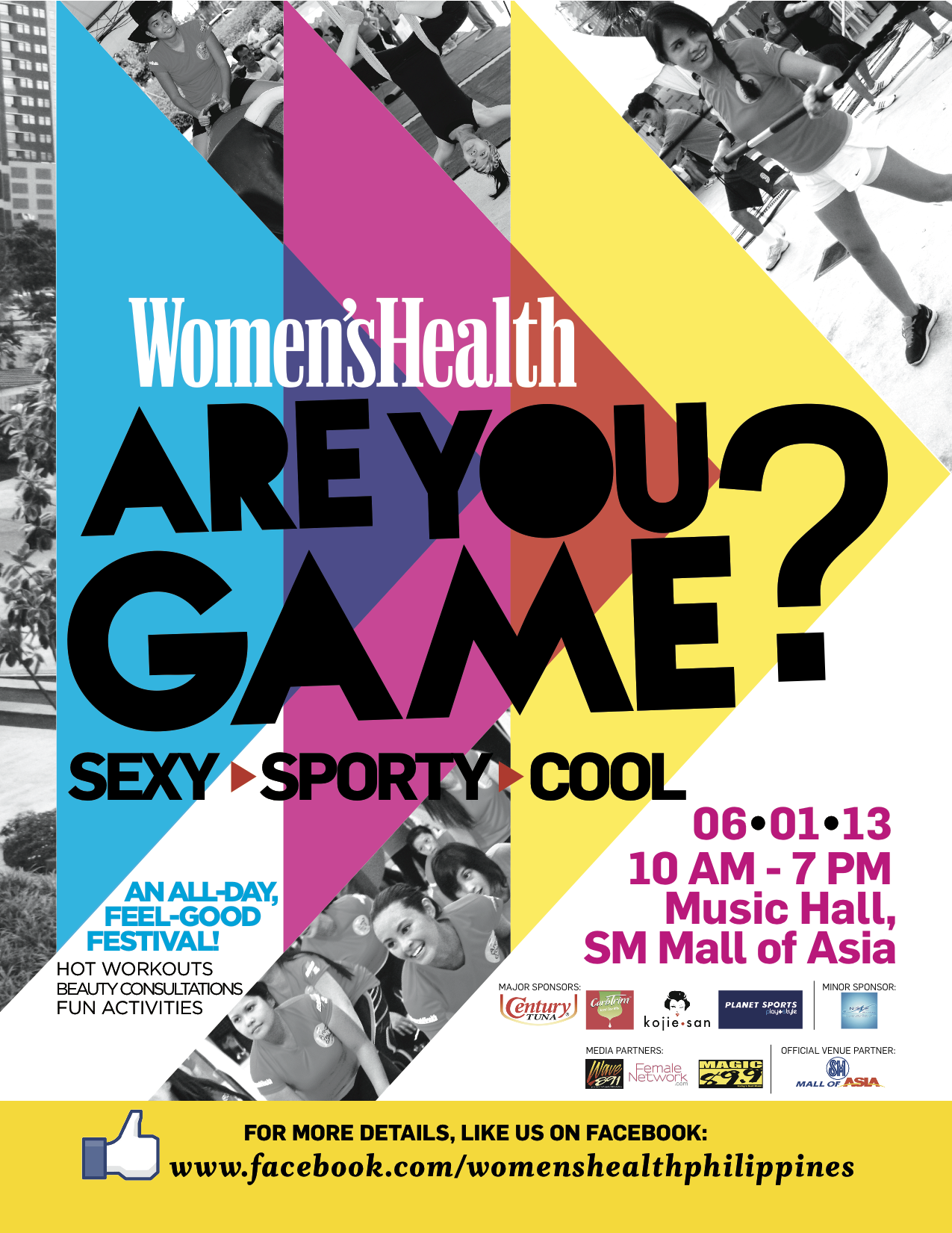 OMG! I can't recall why I didn't join Women's Health Are You Game last year. To make it short, here's how to join this super cute event of Women's Health:
1. Bring May or June issue of Women's Health Magazine on June 1 at Music Hall, SM Mall of Asia.
2. Pre-register at www.femalenetwork.com/WHAreYouGame/.
3. Bring your own towel and kikay kits to stay pretty after the workout.
PRESS RELEASE
Women's Health brings back Are You Game? in the Philippines
Shape up your best body this year as Women's Health Philippines brings back its flagship event – "Are You Game?", an all-day, feel-good festival that features the latest in fitness, nutrition, wellness, beauty and more! Happening on June 1, Saturday (10:00 AM) at the Music Hall of SM Mall of Asia, Are You Game? is sure to encourage today's active women to take control of their physical and mental being.
Following the success of the first Are You Game? last year, Women's Health makes it possible for Filipino women to experience more this June through new workouts like SMRT-Core Circuit, a 30-minute class which is designed to lengthen the muscles, strengthen the myofascial lines and slings, and integrate the body for a complete body workout. Les Mills Body Jam™, a signature workout of 360 Fitness Club which is a cardio workout that fuses the latest dance styles and hottest new sounds to put emphasis on having fun while exercising. Beyond Sculpt, a brand new fitness-based approach to yoga that is targeted to strengthen the body using weights. Zumba Toning, a combination of targeted body-sculpting exercises and high-energy cardio work with Latin-infused Zumba moves to create a calorie-burning, strength-training dance fitness-party. Fit Into Your Jeans Workout, a total-body workout that sculpts sexy thighs, legs and butt while working on the upper body and core, and FNR (flexibility Not Required), which is a simple, worry-free introduction to yoga.
[Read more...]
2c61