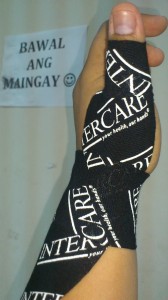 I can give you few reasons why I joined running clinics, first, to be educated then, to learn how to avoid the risk of injury. I believe that by learning the proper way, it could help me to be faster, stronger and more efficient in running. During the learning sessions, in the middle of the training, accidents are unavoidable.
September 13, my mind and body were prepared during the second session of the clinic as I brought few of stuff like flat theraband and gloves. There were several activities prepared for us, and stretching was one of them. I can't recall the name of the activity, so let's call it "Partner Stretches". Running coaches showed us the proper way of stretching your partner, then, we followed it. In the middle of the activity, I felt the pain, I guess I was over push the stretching workouts and had incorrect push exercises on my partner which led my wrist to ache.
The next days and weeks, pain became serious. I noticed soreness part on my forearm. Lifting my coffee mug and grasping bottle became impossible. The next worst thing was I dropped my writing pen.

September 27, I went to InterCare in Makati to have my wrist checked and diagnosed. I waited my name to be called then, a Physical Therapist led me to my assigned room. Dra. Annie Dizon, resident sports doctor of InterCare came, she introduced herself and started to ask questions. According to her, my tendons was swelling started from my thumb up to forearms. She gave me hand and thumb exercises and checked its resistance. It was a relief for me when she said after the exercises that I don't have to go for a surgery.
Another Physical Therapist came and applied hot compress to injured area for about 10 to 15 minutes while waiting as he prepared Therapeutic Ultrasound treatment. Gees, it helped relieve the pain.
The next procedure was the Therapeutic Ultrasound treatment, he first applied warm gel on my forearm up to my thumb. This method provides deep heating to muscles, joints, ligaments and tendons.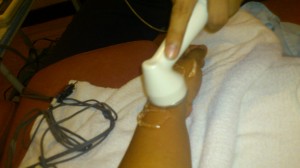 On the final procedure, he applied few exercise to stretch my wrist then, followed by taping my thumb up to forearm using Rock Tape. The tape is supporting the muscle to make my wrist more functional and somehow helped decreased the pain.
According to Dr. Martin Camara, Rock Tape is best kinesiology tape in the market. For people with the bad posture, the tape helped pull you back to the right position. You can check out in Rock Tape Philippines website on how tape works.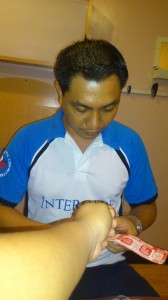 The next session will be physical theraphy and rehabilitation. Hope it heals anytime soon so I can use my left arm freely.
If you are experiencing pains in your body, InterCare will help you find the root cause. You may visit their branches at the following addresses and contact numbers.
INTERCARE MAKATI
Intercare Building,
8420 Kalayaan Avenue, Makati City.
Tel Nos: (632)890-3378 -79
Fax: (632)890-2547
Mobile: 0922-811-3651
0917-850-9486
Monday to Friday, 8:00 AM – 5:00 PM
Saturday, 8:00AM – 12:00 NN
INTERCARE ALABANG
Unit D, Upper GF, Westgate Tower
Investment Drive, Madrigal Business Park
Alabang, Muntinlupa
Tel Nos: (632)807-6863
Fax: (632)809-4163
Mobile: 0922-811-3649
0917-866-4156
INTERCARE GREENHILLS
26-A Eisenhower Street
Greenhills, San Juan.
Tel Nos: (632)724-6631
Telefax: (632)722-1846
Mobile: 0922-811-3650
0917-859-9479
Monday, 8:00AM -3:00 PM
Tuesday to Friday, 8:00AM – 5:00PM
Saturday, 8:00 AM – 3:00 PM
Monday to Friday, 10:00AM – 7:00 PM
Saturday, 9:00AM – 4:00PM