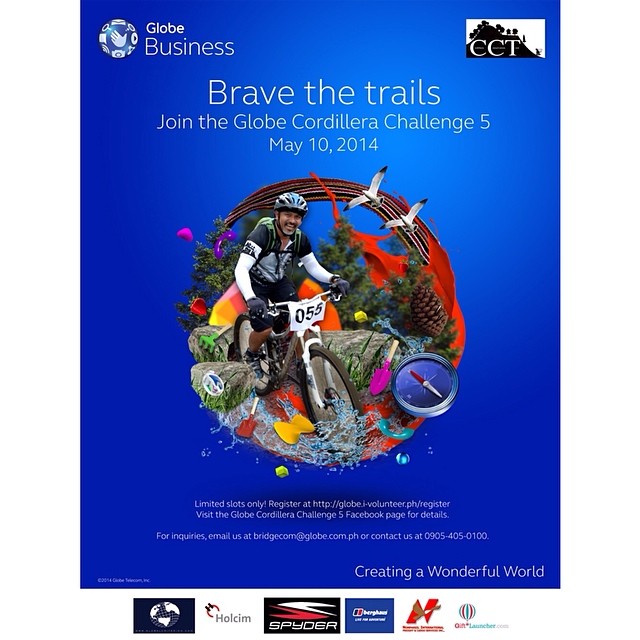 Globe Telecom
in cooperation with
Cordillera Conservation Trust
invites you to
5th Cordillera Challenge
Cordillera Mountains, Benguet
May 10, 2014
This year's Globe Cordillera Challenge is expected to test the stamina and endurance of the mountain bikers. The distance of the route is gruelling 90-km according to JP Alipio, Executive Director of Cordillera Conservation Trust during the event launch last March 17 at the Mind Museum Hall.
The event aims to raise funds to establish 45 seedling nurseries under the Roots & Shoots nursery program of its partner and beneficiary, Cordillera Conservation Trust, a non-stock, non-profit organization that provides environmental solutions and sustainable development strategies for the Cordillera mountain region.
Mountain bikers will not only ride the beautiful Cordillera mountains, but for a mission to protect and rehabilitate endangered environmental areas in the Philippines.
Route Details:
Distance: 90kms
Lowerst Elevation: 552mASL
Highest Elevation: 1780mASL
Total Ascent: 3393m
total Descent: 3404m
The View: The course of the Globe Cordillera Challenge 5 will take you into the interior regions of the Cordillera where time stops and a view of how man and nature has been able to shape the ecosystem together can be seen throughout the course. It will feature the terraces seldom seen by most in Atok, Tublay, and Kapangan not to mention as this years course will be the longest we have ever attempted the sunrise and sunset over the Cordillera mountains.
Section 1: Tublay Municipal hall to Atok junction – this is a road climb and descent through the Halsema highway up to the junction at Km. 30 with views of the vegetable gardens of Tublay along the Halsema highway and the Sunrise over Halsema to your right. This section will cover 15kms
Section 2: Km. 30 to Tabaao Kapangan Amburayan River. This 42 km section covers the wildest parts of the route and will go through the towns of Atok proper, Pasdong, and Naguey in Atok and will involve a mixed bag of gravel roads and really rough and steep back roads that will take you through some of the most beautiful terrain in the Cordillera. The towns of Naguey and Pasdong feature beautiful rice terraces seldom seen outside of these villages.
Section 3: Amburayan River to Tublay: This 30km section of the course is a steady climb up to the municipality of Tublay through a paved road with the occasional gravel road mixed in. Watch out for the brilliant rock mountains that surround Tabaao, Kapangan and the rice terraces of Kapangan and Tublay you will be passing along the way.
Bike Requirements:
1 Mountain Bike (26er, 29er, Rigid, Full Suspension) **Road bikes will not be allowed due to conditions of the route
Tyres: Recommended 2.1 knobby tyres suitable for rocks and loose gravel Recommended Suspension: 100mm recommended minimum travel front suspension
1 Mountain Bike Helmet
Required Equipments:
1 Hydration Bladder/ Water Bottle
1 Spare tube
1 hand pump
1 patch kit
1 mobile phone
2 pcs spare tubes
Chain tool
Flashlight/bike light
Blinkers
Missing link for your chain
Online registration: http://globe.i-volunteer.ph/register
For more information, please email bridgecom@globetel.com.ph
Don't forget to follow Globe Cordillera Challenge social media Hashtag: #GlobeCordi5