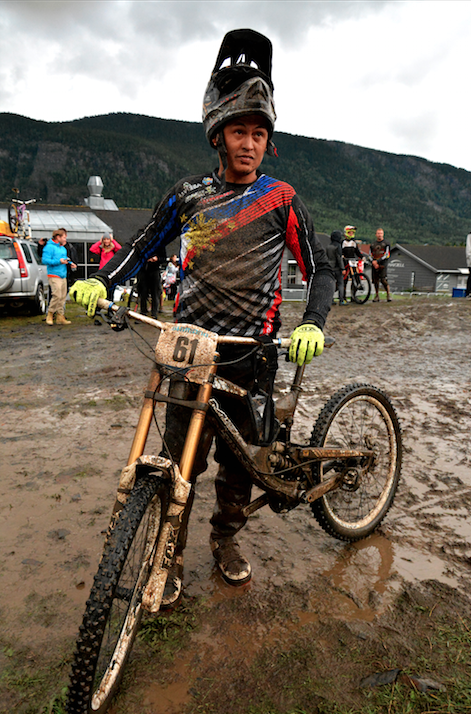 Tena and Bans, "Team TenaBans", Athena Beltran-Mendoza and Parabanne Mendoza were supposed to join us at Kundasang, Malaysia for the ASEAN Mountain Bike Cup Series 2 but their schedules were already arranged for Norway prior the announcement of the ASEAN MTB Cup Series 2. Bans accepted the inevitable invitation at World Championship in Europe.
Waiting at the pre-departure area of Ninoy Aquino International Airport Terminal 4, formerly Domestic Airport, I sent Tena and Bans my well wishes to their performance at World Championship. We kept posted each other while we're both overseas. She kept us posted on their whereabouts in Norway, same with us in Malaysia.
When we both arrived in Manila. I sent Tena series of questions regarding their preparation in international scene.
When was dream started for the World Championship for Bans? What made him qualify? What did it take to reach this dream?
It was just a pure plain dream! Like any another serious racing mountain bikers, everybody wants to level up. But we were clueless then as how to make it happen.
The idea to race in World Champion took place after we qualified as UCI National Commissaire. We just learned that to qualify was easy, but getting an endorsement from a recognised federation was the hardest part.
In the Philippines we have PhilCycling, and luckily, DROP (Downhill Rider Organization of the Philippines) was an affiliate organisation of PhilCycling where the Ban's present and previously registered race results were properly documented. As a former national team athlete was an additional advantage for him. We were also endorsed by our former team coach, Arjuna Saulo.
Just imagine the documents we went through to make to World Championship for Downhill, these documentation applies in Cross Country too.
What was the racing atmosphere in World Championship? Can you compare races held in Asia and in the Philippines?
Atmosphere were so high and intense. Whether it is World Cup or World Championship, race tracks were designed in difficult level. These were the tracks we've seen in videos and video clips uploaded in youtube with the likes of Red Bull channel and all. It can be compared to Asian Championship or our National Championship.
ASEAN MTB Cup was the nearest experience to be given to non-national team and one of the reason why we developed it. Next year, there will be C3 (Category 3) under UCI. Ideally, registered races under C3, C2, C1 or Hors Class gives same experience at whatever stage or category.
Was it cold in Norway? How cold was cold? Can you tell the temperature.
Temperature was 9 degrees but it feels like 5 degrees. The coldness more penetrated in the skin especially when cloudy and rainy. It was even colder as you pedalled vividly fast.
What are the things you brought?
We brought a lot of baon because we don't know what to expect there. In a winter country like Norway, it was a challenging for us. I need to check that Bans performs well at an optimal level when temperature drops. We were well prepared for unexpected expenses like bike gears and parts.
Let me give the example what had happened to Benosa during ASEAN MTB Cup back in Cebu last June. He was DNF because of cut off chain. His wife told him that he should have save for expensive gears for the race.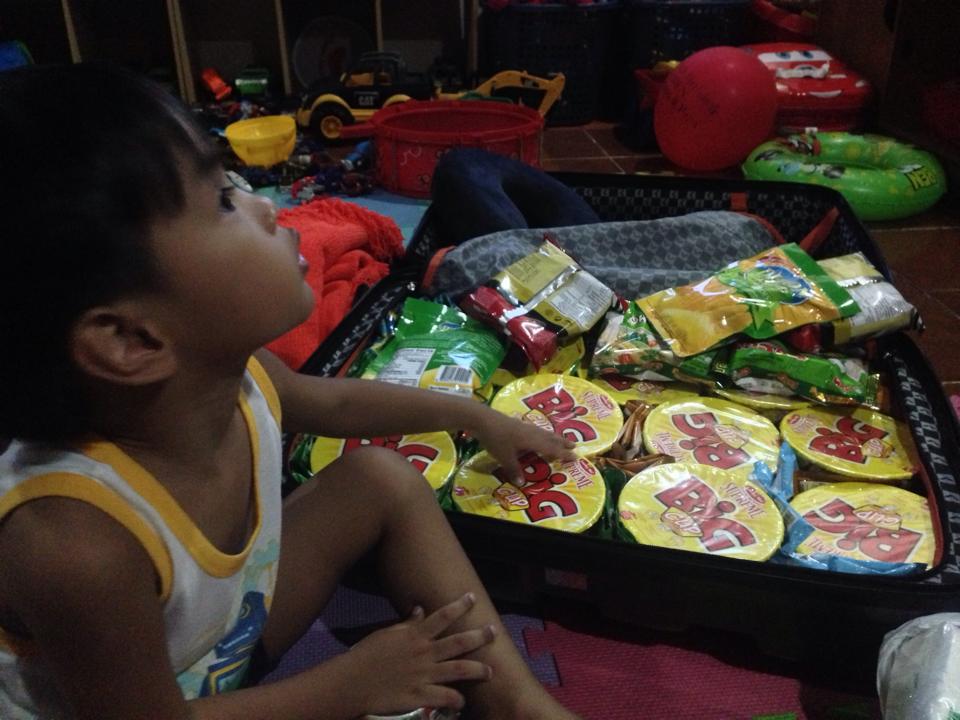 Bans food. I brought food for him to make sure that he won't be home sick. One of them were Batchoy and Bulalo cup noodles.
Not all riders blessed with support equipment, nutrition, training schedule, lodging, flights and race materials so, those riders who were given enough resources and sponsorship were the ones one step closer to podium win. As for me, I admired those who have limited support, they were strong; physically and mentally as if not thinking what's something missing. Heart works! They pedalled from the heart. Those were real WARRIORS for me.
Equipments, technical gears?
Bans uses Intense. He's been using it for quite long time. He also got Lapierre and of course, Intense Bikes.
Kamikaze has been supported Bans from his uniforms, gear bags and bike bags. He was grateful to the trust of Nuvali and Alviera for the support they have given to Bans.
With all the experiences and exposure in international scene, little by little we could bring the same level of racing experience in our country for us all to level up.
How was the Gondola experience?
He was in Gondola on his way up. We were able to see riders on the tracks. I was tempted to rent a bike because the view it very inviting. It was breath taking, a demonstration of God's love and ready for you to take in and absorb the positive energy.
I didn't rent a bike, I stayed focus on the reason why we're there.. for him to race besides I am not in riding shape.
Having midnight sun seemed favourable to us. Length of sunlight is longer like it still sunny at 9pm, bright event if its already late.
Were there times not pursue World Championship? If yes, what is done to be able to overcome?
When you started to say YES. You have to be determined. Walang atrasan. We were decided, no flinching. Feeling of guilt, yes for sometimes maybe because of the expected cost and expenses but we have no doubts, we will pursue it.
Among these obstacles we went through, there were still inspiring events and episodes that pushed us these dream, these were our family and friends. Their well wishes truly touched our hearts. A group of individuals who are also are friends created a fun race to support Bans. It really helped us specially Bans. It really uplifted our spirits.
Is Bans joining the World Championship next years?
We're not planning yet for next years of Word Championship but we would like to go again. Maybe Europe again but we have to save and prepare a lot. Riding condition is a way beyond riding condition in Asia specifically the long race tracks and confidence in long jumps. He likes it a lot.
What comes next with Bans after this World Championship? What keep Team TenaBans busy in the next months?
Coming months will be the preparation for the National Championship in Nuvali, Terry Larrazabal Bike Festival and followed by the ASEAN MTB Cup in January 2014 to be held in Cebu. We are still looking at the schedule for a Downhill race or a fun race or to launch something new on local scene.
I have additional work in Langkawi International Mountain Bike Competition (LIMBC) in Malaysia as commissaire, I can only perform my duties in overseas.
What would you advise/tips to not so young who aspire to join later on World Championship?
To all riders who are interested to excel in mountain bike racing, the least you can do is race on a UCI-sanctioned events with the likes of National Championships and ASEAN MTB Cup. Especially next year, there will be expected 4 destination for ASEAN MTB better yet, race all of them.
All riders started as beginners, don't be ashamed of it. Progress will come naturally especially when you get tips and advises from experience riders. Just put keep your butt on a saddle and ride, practice
I would like to commend few former elite riders who were present during World Championship, they were very humble, not even a prima madonna. In our local scene, we got Frederic Feliciano Farr and Eboy Quinones who already proved their craft, very much respected but remain humble.
Lastly, Team TenaBanswould would like to thank Nuvali, Alviera, and Kamikaze for the support in the recent World Championship race. Friends from DH Crew and Team Faren and other donors who were able to raise funds to help in their trip.
Photos by: Athene Mendoza