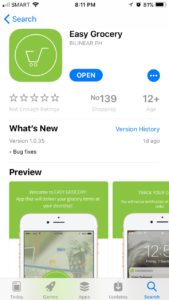 Check out the newest way to do your groceries as it goes digital. You can now do your groceries with just few clicks using the EasyGrocery mobile app.
EasyGrocery app allows consumers to purchase their grocery items from the app and have them delivered to their preferred address within 60 minutes committed time. The app is now available for download on Google Play and Apple Store.
How it works?
APP:
Download the Easy Grocery App from Apple Store or Google Play. You should see the developer name, Bilinear.PH
Register with your name, email and mobile number
Create a password
Input your address and birthday
Receive a confirmation that your account has been activated
GROCERY:
Open the app and select your preferred city. For soft launch of Easy Grocery, pilot areas available are Makati, Parañaque and Taguig for now. Expect more cities in the coming months.
Choose your preferred store. Then, you will be redirected to store's virtual groceries. The virtual grocery is arranged by category (babies, bakery, canned, dairy foods, drink, etc).
Select your grocery items and its quantity. Then, press Add to Cart once done with the items.
Click Place Your Order button to see total amount of your grocery items.
EasyGrocery puts prime value in winning the trust of their users by putting their own brand of customer service in place:
A fast and easy ordering system designed exclusively for the app.
Trained Runners who will personally pick-up the groceries as soon as orders are confirmed online.
GPS mobile app tracker for their riders which allows customers to track the driver's location with ETA.
A proactive notification system which allows customers to see if items/orders are already in process and see their current status.
EasyGrocery provides a variety of online grocery shopping options as it makes it possible to
purchase the orders in some of the country's biggest supermarket chains. What's best,
groceries will come from the stores nearest to the customers in order to meet delivery time.
Users have the option of paying Cash On Delivery (COD), credit card and points payment and
soon, payments can also be made via Bayad Centers, over the counter, online banking,
convenience stores and mobile payment facilities.