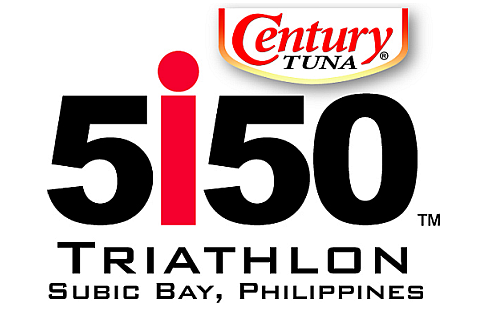 Press Release:
Philippine hospitality, ingenuity and its unbelievably beautiful scenery will once again be showcased before the world when Alaska Milk stages the Olympic-distance Century Tuna 5i50 Triathlon Series Philippines on June 24 at scenic Subic Bay.
Alaska Milk Corporation (AMC) President and CEO Fred Uytengsu, through Sunrise Events, Inc. (SEI), introduces the Olympic-distance triathlon race (1.5k swim, 40k bike, 10k run) to local shores. This is the first 5i50 distance triathlon sanctioned by the World Triathlon Corporation (WTC) to be held in Southeast Asia.
"Our aim with this event is to encourage even more people to adopt a healthy lifestyle and embrace multisport training and racing. While we recognize that people may have an Ironman or Ironman 70.3 event as a 'bucket list' item, we also realize that you need to start somewhere and this event does exactly that. The distance is challenging for the novice triathlete and we hope to encourage many individuals to start with this distance," said Uytengsu.
The two-time Ford Ironman World Championship finisher said he hopes to attract more participants in the sport by staging this shorter distance as well as holding relays with separate participants in the swim, bike and run legs of the race.
"We will have several categories in the relay division. We believe that by offering relays, we will end up getting full-fledged triathletes from this group as these participants will discover the joy and challenge of completing all three disciplines," said Uytengsu.
The entire race will be within the Subic Bay Metropolitan Authority (SBMA), a former US Naval base and one of two former major military bases of the United States in the Philippines.
"We are pleased that Subic Bay has agreed to be our host venue for 2012 until 2014. Although Subic Bay has been host to many multi sport events, we will make it our challenge to make the 5i50 another world class production," said Uytengsu.
Participating triathletes can say they have swum in majestic Subic Bay where mighty battleships were once moored surrounded by breathtaking mountains.
These mountains too will pose another daunting challenge during the bike leg which will feature some vicious climbs.
And like the other run legs in triathlons run in the Philippine, the 10k run route will be lined with spectators, giving the athletes that extra boost from cheering crowds that will help them complete the 51.5 kilometer distance.
Title sponsor is Century Tuna, the leading tuna brand in the Philippines. Other sponsors are Alaska Milk, 2XU, David's Salon, Gatorade, Intercare, Oakley, Timex, Subic Bay Metropolitan Authority and media partners Philippine Star and Multisport Magazine.
Interested parties may visit the Website http://www.5150philippines.com for more details.