Last lenten season, I was invited by Kaye Beltran for a bike and to check out their newly bought and renovated hotel in Bacolor, Pampanga named King's Royale. She asked me to review their hotel and its amenities.
Me together with Joyce del Socorro and Nilo Estayo went to Pampanga as we biked it all the way from Manila to Bacolor. We took McArthur Hiway stretch then, from McArthur Hiway, Brgy. Dolores intersection, we turned left to Jose Abad Santos Avenue (JASA), King's Hotel is about 2 to 3 kilometers from the intersection.
As I recalled, we arrived almost 6:00 PM in the hotel, Kaye arranged our complimentary pass in King's Royale while the crew and staff accommodated us and helped us bring our bikes in stockroom.

It was Easter Sunday when we biked the next day, it was just a half day ride when we pedaled the stretch of San Fernando City, Mexico, Arayat with her friend Ritchie. Some pictures here:
Nilo bailed out in the middle of the ride for the training for Le Tour de Filipinas in Pangasinan. When we arrived in the hotel, he was in Paniqui already. What a leg power!
It was around 9:00pm when Kaye left the hotel. She told us that she will be the one to check us out. This is the last photo of her before she left.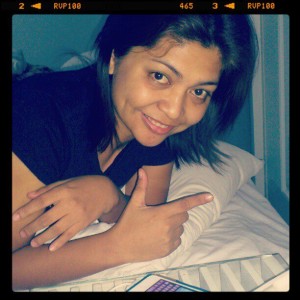 The next day, we waited for Kaye. Called and texted her but she seemed not to be found. I approached the front desk if Kaye left instructions for us. The front desk officer told me none except the instructions given by Mr. Michael Beltran, King's Royale Hotel General Manager and brother of Kaye Beltran, that we have to pay our hotel accommodation amounting Php1,980.00. I was surprised and upset but I stayed calm.
Joyce knew little Kapangpangan words and she told me privately that the crews and staffs were talking as if we are not paying our accommodation and all. I remained calm as I went outside to look for the nearest bank to withdraw cash. I paid them in cash and gave additional Php500.00 tip for the front desk.
Until now, I haven't heard a word from her. I was able to call her younger brother and he told me Kaye was out of the country, other said she was in a Rehab Facility in Pasig.
To all our friends, please help me find her. I just need to talk to her because aside from the bad experience I had back at King's Royale Hotel, I have separate issues with her regarding the money she owed me and the unpaid web hosting services for http://skewersgrill.ph
More photos in this link.