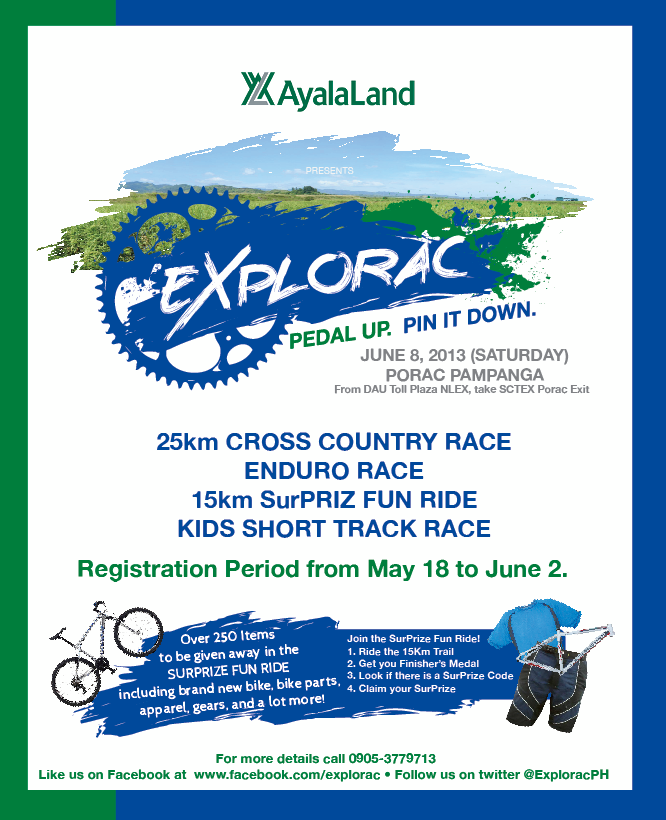 Don't miss the upcoming mountain bike race in north dubbed "Explorac" by Ayala Land Inc on June 8, 2013 in Porac, Pampanga.
They will be given away 250 items in the SURPRIZE FUN RIDE that includes brand new bikes, bike parts, apparel, gears and a lot more! Here's the mechanics how to join the SurPrize Fun Ride
1. Ride the 15km trail
2. Get your Finisher's medal
3. Look if there is a SurPrize Code
4. Claim your SurPrize
I have joined several events hosted by Ayala Land and I bet this one is exciting!
Registration Information:
Registration Dates: May 18 to June 2 at the following registration partners.
Registration Partners:
777 Bike Hub
All Terra
Behind Bars
Bikeworks
Bikeline
Bike Town Cyclery
Bikezilla
Ciclismo
Gnet Bikeshop
Jay's Bike Shop
John Wilkie
LGC Bike Express
Papi's Ride
Sabak
South Cycle
For more details, visit their Facebook Fan Page or Follow them on twitter @ExploracPH

Categories:
| Cross Country (XCP) | 1st | 2nd | 3rd | 4th | 5th | 6th to 10th |
| --- | --- | --- | --- | --- | --- | --- |
| Female Open | 7,000 | 5,000 | 3,000 | 1,500 | 1,000 | Medal |
| Mens Elite | 10,000 | 7,000 | 5,000 | | | Medal |
| Mens Under 23 (16-22) | 5,000 | 3,000 | 2,000 | 1,500 | 1,000 | Medal |
| Mens Novice (23-29) | 5,000 | 3,000 | 2,000 | 1,500 | 1,000 | Medal |
| Mens Master A (30-34) | 5,000 | 3,000 | 2,000 | 1,500 | 1,000 | Medal |
| Mens Master B (35-39) | 5,000 | 3,000 | 2,000 | 1,500 | 1,000 | Medal |
| Mens Senior A (40-44) | 5,000 | 3,000 | 2,000 | 1,500 | 1,000 | Medal |
| Mens Senior B (45 and above) | 5,000 | 3,000 | 2,000 | 1,500 | 1,000 | Medal |
| Enduro | 1st | 2nd | 3rd | 4th | 5th | 6th to 10th |
| --- | --- | --- | --- | --- | --- | --- |
| Mens Open | 10,000 | 7,000 | 5,000 | 3,000 | 2,000 | Medal |
| Mens Under 23 (16-22) | 5,000 | 3,000 | 2,000 | 1,500 | 1,000 | Medal |
| Mens Novice (23-29) | 5,000 | 3,000 | 2,000 | 1,500 | 1,000 | Medal |
| Mens Master A (30-34) | 5,000 | 3,000 | 2,000 | 1,500 | 1,000 | Medal |
| Mens Master B (35-39) | 5,000 | 3,000 | 2,000 | 1,500 | 1,000 | Medal |
| Mens Senior A (40-49) | 5,000 | 3,000 | 2,000 | 1,500 | 1,000 | Medal |
| Kids Race | 1st | 2nd | 3rd | 4th | 5th |
| --- | --- | --- | --- | --- | --- |
| Boys (7 and below) | 1,000 | 750 | 500 | Medal | Medal |
| Boys (8-10) | 1,000 | 750 | 500 | Medal | Medal |
| Boys (11-13) | 1,000 | 750 | 500 | Medal | Medal |
| Girls (7 and below) | 1,000 | 750 | 500 | Medal | Medal |
| Girls (8-10) | 1,000 | 750 | 500 | Medal | Medal |
| Girls (11-13) | 1,000 | 750 | 500 | Medal | Medal |