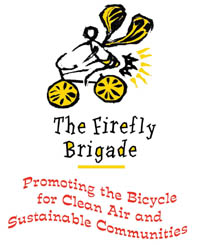 After the long wait, it's official, the 14th Tour of the Fireflies by Firefly Brigade is happening on September 16, 2012 November 18, 2012.
To give you a brief profile of the ride, Tour of the Fireflies is one the biggest and grandest bike ride held in Manila yearly to promote clean air by biking. This event will be again participated by bikers in Metropolitan Manila and near Manila to support the advocacy of Firefly Brigade.
As a regular lady pacers of the Tour the Fireflies, I would like share some points to remember if you'll join this bike ride.
Prepare your bike. All bikes are welcome in the ride, you will see bicycles in different displines. These bikes may be road bike, mountain bike, low rider bike, folding bike, downhill bike, village bike and more but, the important part of the preparation is, bike should be properly tune-up to avoid injuiries or accident.
I would suggest to decorate your bikes as Firefly Brigade gives special awards to those unique bikes 🙂
Prepare yourself. Tour of the Fireflies bike ride usually participated by more than 10,000 bikers within Metropolitan Manila and near Manila. Please prepare yourself on these expected bike buddies during the ride. Think that this will be your opportunity to mingle with other bikers and meet new friends.
Bringing your kids. Kids are the most welcome bikers at the tour but please prepare them for this ride. Take them near the lady pacers on front so that they will be properly guided on the ride pace during the ride. Based on my personal experience as a pacer, we are mainting 10 to 15 km/h speed. I saw lot of children finished this ride.
Water. It is available in the event but I would suggest to bring water for yourself and the kids. Check out the water hydration bag available in your nearest local bike shop.
In case of unexpected circumstances, male marshals will be there to assist you to take you to the next SAG group.
I know everybody is already excited. I hope I shared good points for those bikers who will be joining the 14th Tour of the Fireflies on September.
See you there.