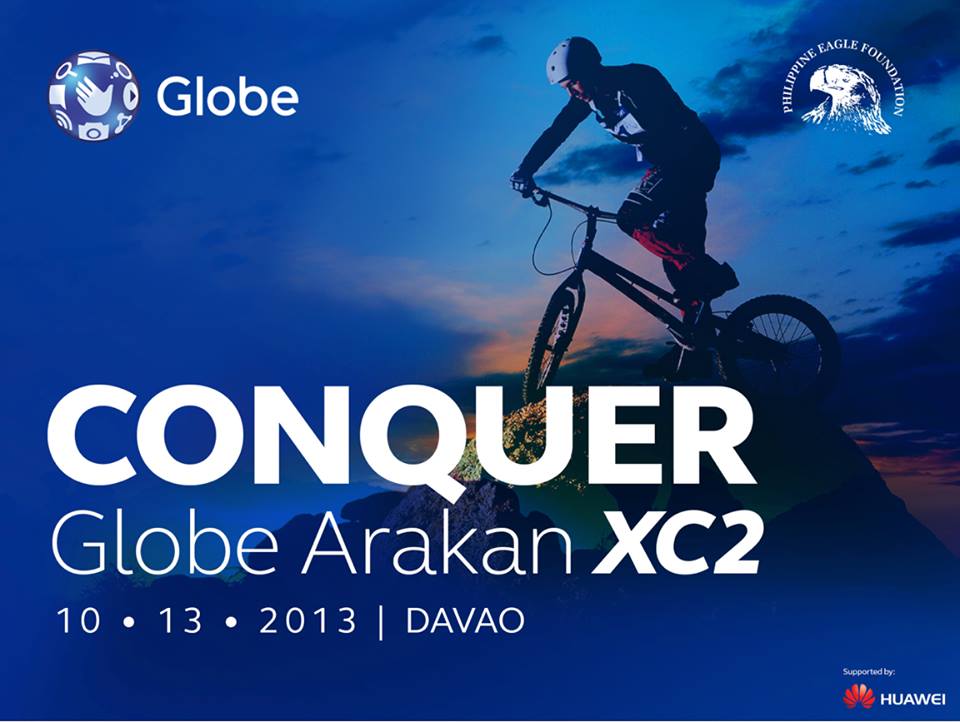 Globe Arakan XC2
Davao City
October 13, 2013
After I conquered Cordillera trails last May, this October, I will going to Davao for another fun and adventures with Globe called 2nd Arakan Mountain Bike Challenge dubbed "Globe Arakan XC2" on October 13, 2013. It aims to support Philippine Eagle Foundations (PEF) Forest Corridor Development Program to raise awareness on indigenous communities, the environment, and the need to protect the Mahuson, Sinaka, and Kabalantiian-Binoongan-Kulaman mountain ranges.
ROUTE DETAILS:
Number of Kilometers: 61.6 kilometers in total
Loop in Kilometers: 30.8 kilometers from Philippine Eagle Center to Brgy. Salaysay minimum elevation: 188m
Average elevation: 332m
Highest Elevation: 609 m
Elevation Gain: 787m
Elevation Loss: 747m
Maximum slope: 20.3%
Minimum slope: -16.5% Average slope: 4.7%

REGISTRATION DETAILS:
Register at http://globe.i-volunteer.ph/register
Registration period is from September 7, 2013 to October 6, 2013
Registration Fee: Globe subscribers – P1,000 | Non-Globe subscribers – P1,200
Donation includes bikerkit inclusive of event jersey, race bib, race bike number, food, and drinks.
For updates, checkout http://www.facebook.com/GlobeBridgecom and http://www.twitter.com/Globebridgecom. For queries email at webridgecommunities@gmail.com or bridgecom@globetel.com.ph
Official Facebook Event Page: Globe Arakan XC2