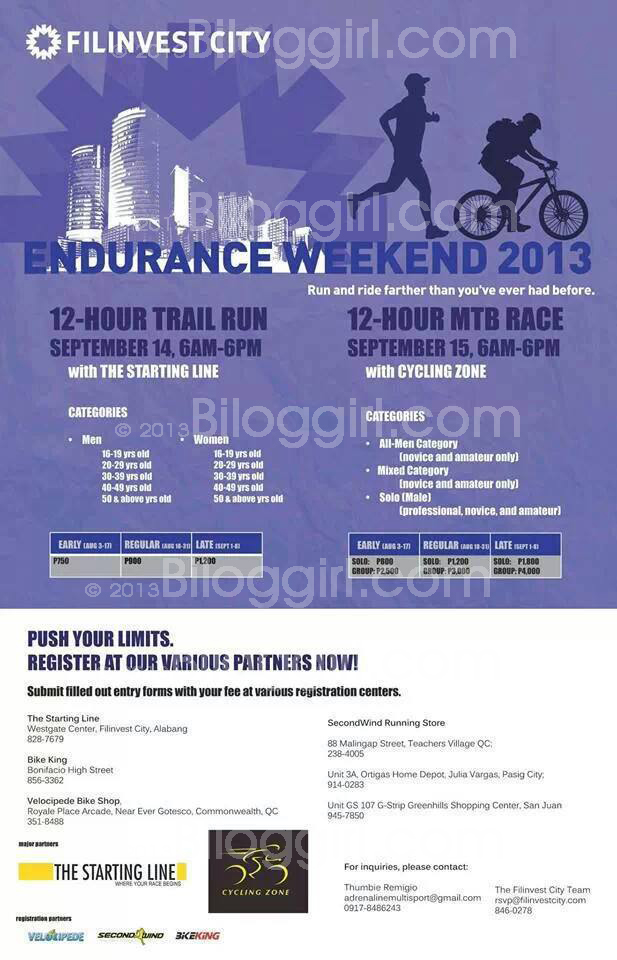 Filinvest City
presents
Endurance Weekend 2013
Filinvest City, Alabang
September 14-15, 2013
Filinvest City aggressively announced the first ENDURANCE race of the year dubbed "Endurance Weekend 2013" to be held at Filinvest City. This race is definitely not for everybody but for everybody who would want to test their endurance skills in running and biking the trail. Endurance races set to complete a certain distance and you have to do it as much distance as possible over a preset amount of time.
I tried the 24-hour mountain biking race couple of times (naks! ako na talaga) and believe me it was not easy, in either solo or group category. If you are aspiring to join future endurance races, this is the best time to test yourself.
I haven't tried endurance races for trail running yet, but hope I can do it someday.

Registration Fees for 12-Hour Mountain Biking
| Category | Early (Aug 3-17) | Regular (Aug 18-31) | Late (Sept 1-8) |
| --- | --- | --- | --- |
| Solo | Php800 | Php1,200 | Php1,800 |
| Group | Php2,500 | Php3,000 | Php4,000 |
Registration for 12-Hour Trail Running
| Early (Aug 3-17) | Reguarly (Aug 18-31) | Late (Sept 1-8) |
| --- | --- | --- |
| 750 | 900 | 1200 |


Race packets (Bib number, *pins, *bike number, *bike and helmet sticker)
Race shirt
Finisher's medal
Hydration
one (1) Meal (Lunch)
* for 12-Hour Mountain Bike Race
Registration Sites:
The Starting Line Multisport Store
402B Autocluster Bldg. A, Westgate Center,
Filinvest City Muntinlupa Tel No: 828-7679
Cycling Zone
Shell Pacific Gas Station,
Alabang-Zapote Road, Muntinlupa 809-6763
Velocipede Bike Shop
Unit B, Royale Place Arcade (Beside Ever Gotesco Commonwealth) Tel No: 351-8488
Bike King
Bonifacio High Street , Tel. No: 856-3362
Secondwind Running Store
88 Malingap Street, Teachers Village QC Tel No: 238-4005
Unit 3A, Ortigas Home Depot, Julia Vargas, Pasig City; Tel No: 914-0283
Unit GS 107 G-Strip Greenhills Shopping Center, San Juan Tel No: 945-7850
General Rules
ENDURANCE WEEKEND 12 HOURS MTB RACE
1) 12 hour teams and 12 hour solos ride from 6am – 6pm
2) One lap of the main course is a loop of about 3.5 km.
3) PARADE LAP: thins the riders out before they enter the course.
4) Minimum lap Requirement:
Team members: 10 laps each
Solo riders: 15 laps
5) Only one rider from each team goes round the course at any one time
6) Team"s decide what order their team members ride in and how many laps each team member riders –
all members of the team must ride at least one lap
7) Each team member gets their own race number (if you change bikes during the race it is up to you to
move your race number to your new bike)
8) Each team gets a team "Reusable Timing tag" that must be worn on the rider"s ankle. Each team
member will have their own timing tag the must be put on their bike"s seat post.
9) It"s highly recommended that each team or solo rider bring their own support crew.
10) Riders in each team "change' over at their transition site where they change timing tag that is worn by
the rider during their whole lap.
11) The rider on the course is timed when they have completed their lap
12) The idea is to complete as many laps as possible in the 12 hours, the teams in each category who do
the most laps WIN!!
13) Teams and solo riders finishing a lap before 12 noon may still start another lap, as long as they start before 24:00:00 on the official race clock. This lap will count with respect to time and laps completed.
14) The time and number of laps completed by each team or solo will determine their finishing order.
15) In case of a tie in laps, the team or solo rider who finishes their last lap first will beat those who finish behind them (Team that has completed 28 laps with a finish time of 12:31pm would beat a team that
completed 28 laps, finishing at 12:47pm. And of course, a team that completed 29 laps, finishing at
12:50pm would beat them both.)
16) Scratching a Rider: In the event that a team loses one of its teammates due to illness, injury or exhaustion, that team may elect to "scratch" that rider from the team and continue with the race. However, the team will be listed as DNF. Also, if a team member did not meet his or her lap requirements, then that team is also listed as DNF
Riding Rules
HELMET (compulsory item) All riders must wear a cycle helmet while competing, warming up or if just riding
around the venue area.
YOUR BIKE – for your own safety and enjoyment and that of other competitors, please have your bike serviced pre race so it is in race ready condition. Any 26" or 29" bikes with Minimum tire width of 1.75 will be allowed in the race. Tires must be knobby, no slick s or semi-slick tires allowed.
ON THE DAY BIKE REPAIRS / SPARE PARTS ETC –there may be a limited service centre for on the day bike repairs. It's best if you bring your own spares or bike mechanic.
FIRST AID – On site.
BIKE BREAKDOWNS If a rider has a mechanical problem, they must complete the lap they are on and make it back to the transition point (yes this means by foot if necessary pushing or carrying your bike).
ENDURANCE WEEKEND 12 HOURS TRAIL RUN
1) Run as many laps as you WANT in 12-Hours. Last lap to be completed by 12-HRs. the runner with the most number of laps in a 12 hour period will win the race.
2) 1 lap is 3.2km
3) Minimum laps requirement for each racer to be considered a finisher is 12 laps.
4) PARADE LAP: thins the runners out before you enter the course.
5) Racers can stop any time they want but they have to notify the timer if they wish to take an extended break or withdraw from the race.
6) Hydration is REQUIRED on the Course at ALL times. Each runner must carry all their own food, fluids and other supplies needed for use between aid stations
7) There will be one aid station at the activity area and 1 water refilling station at the 1.5km mark in the course.
8) Runners may not accept aid from their support crew or any other source while on the course and in between aid stations and designated support locations, except in case of a medical emergency
9) Runners must wear their official race number on the front of their person, where it must be visible at all times. Timing chip must be worn on the ankle.
10) Absolutely no littering